D&I progress analysis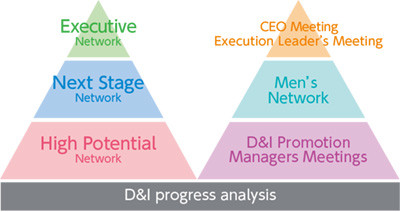 J-Win has worked for many years to survey, analyze, and support the promotion of D&I in workplaces. Based on that experience, J-Win has quantified the progress made by each company in promoting diversity, and developed a diagnostic tool through which companies can gain a better understanding of their own position and the level of progress they have made in promoting D&I in the workplace.
J-Win has specified eight action categories in order to solve three key problems that hinder women's advancement, and we are quantifying the actions for each category (97 questions, perfect score of 765 points). We have also added the actual ratio of women in each employment position, etc. (11 questions, perfect score of 335 points) to this to visualize the situation based on a total of 1,100 points.
Quantifying and Visualizing Diversity Progress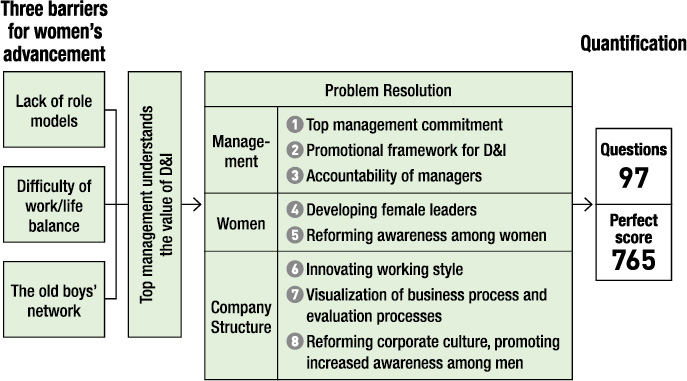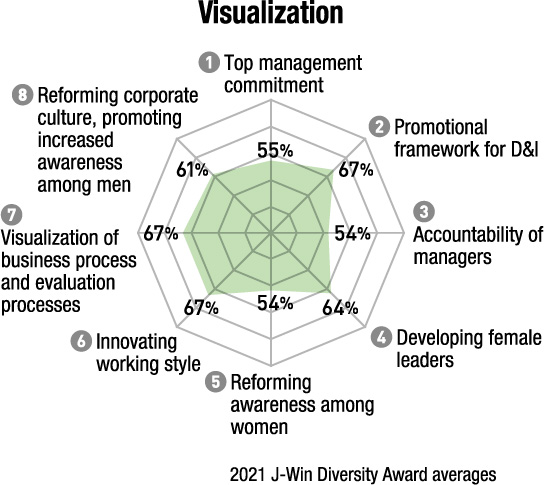 The J-Win Diversity Award
The J-Win Diversity Award annually honors innovative organizations, which prove measurable results and exceptional leadership in addressing the advancement of women in the workplace. J-Win presents models for promoting D&I in organizations, including cultural change by recognizing and sharing successful practices with celebration. Currently, the J-Win Diversity Award is supported by a number of related ministries and agencies, including the Cabinet Office, the Ministry of Health, Labour and Welfare, the Ministry of Economy, Trade and Industry, and the Ministry of Land, Infrastructure, Transport and Tourism.
Program Content
Apr
May
Jun
Jul
Aug
Sep
Oct
Nov
Dec
Jan
Feb
Mar
Application/Examination/Award
Appli
cation
Exami
nation
→
→
Award
Assessment report/overall report
●
●
List of Award Winners for 2022
(Company names and individual positions valid as of award time)
Company Prize
Advanced Category

Second Prize

IBM Japan, Ltd.

Second Prize

BELLSYSTEM24, Inc.
Basic Category

Basic Achievement Grand Prize

Hitachi High-Technologies Corporation

Basic Achievement Second Prize

Sumitomo Mitsui Trust Bank, Limited
Personal Prize
CEO Award

Akio Yamaguchi
IBM Japan, Ltd.
Representative Director, President
Leader Award

Emiko Sasaki
EY Japan Consulting
Partner